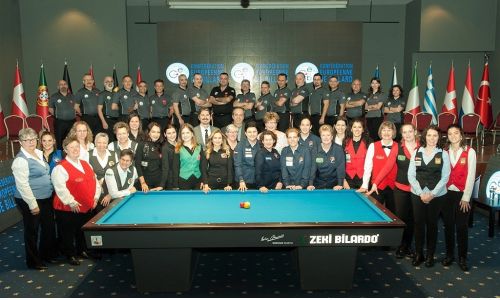 02/04/2020
Magazine Media Page - Photo Galleries and Newsletters
EC National Teams Announcement
In the week leading up to the UMB World Cup in Antalya, the CEB takes center stage in the same location. From February 11th – 13th, the European 3-cushion championship for ladies will take place in Antalya/Turkey, and from February 13th – 16th, it's the European 3-cushion championship for national teams. Both events will take place in the Limak Atlantis Resort & Hotel in Antalya.

For the ladies tournament, Therese Klompenhouwer from the Netherlands is the number one seeded player, followed by Gülsen Degener from Turkey, Irena Hambalkova from Czech Republic and Steffi Daske from Germany. The Netherlands has five players in the draw, Turkey has four. A total of 24 ladies will compete for the title, the ranking points and a first prize of € 1.000,00. Matches will be to 25 points in the group stage, with a 40-inning limit. In the single elimination stage, the length will be 30 points. In all matches there are two time-outs possible.

The second event is the European team championship in 3-cushion. Belgian favourite team (Merckx and Forthomme), as number one in CEB nations ranking, is placed first in Group A. Other favourites are Turkey 1 (Sayginer and Coklu) and Spain 1 (Sanchez and Legazpi).
Turkey 2 (Tasdemir and Capak) is a strong contender, as well as Denmark 1 (Nelin and Sörensen). The Swedish A-team (Blomdahl and Nilsson), with their long history of successes in Viersen, must be considered a dangerous outsider, and it will be interesting to see what the very seasoned and still-very-young combination from Italy can achieve (Zanetti and D'Agata).
23 teams take part in this event. The length is 30 points in the group stage, 40 points in the single elimination stage, with a maximum of three time-outs. First prize is € 4.000,00.
11/2/2020: EC LADIES DAY 1
Favourite Klompenhouwer started with a clear victory.
Today the Women's 3-Cushion European Championships in Antalya, Turkey, were officially opened. CEB President Diane Wild and the President of the Turkish Association, Ersan Ercan, gave a warm welcome to all players, coaches and spectators. After the 24 athletes from all over Europe were introduced, the first matches could be started.
In today's second session, the medal candidates were also at the table. First and foremost the Dutch Therese Klompenhouwer, who demonstrated her supremacy and beat her opponent Ana Juarez from Spain with 25:3 points after 25 innings. This also made Klompenhouwer the only player to reach an average of 1,000.
Surprisingly defeated was the number two seeded Turkish player Gülsen Degener, who fell short against Jaimie Buelens from Belgium. Buelens was also successful in her first group match and therefore is already the winner of this group, while Degener now needs at least a draw against Denmark's Charlotte Soerensen to reach the last 16.
On the other hand, Germany's Steffi Daske and Irena Hambalkova from Czech Republic both won their first matches. They will return to the tables on Wednesday morning for the second group match. A strong performance was also delivered by Karina Jetten from the Netherlands, who first beat Monika Steinberger (Austria) and then also managed to beat last year's silver medallist Guzin Mujde Karakasli (Turkey).
12/2/2020: EC LADIES DAY 2
The semi-finalists have been determined.
The semi-finalists of the 3-cushion European Championships in Antalya, Turkey, have been determined today. Top favourite Therese Klompenhouwer (Netherlands) remained largely unchallenged today, although she had problems against Steffi Daske in the beginning of the quarterfinal-match. The German got the better start and was clearly in the lead at first. Klompenhouwer was able to reduce the score to at least 9-12 until the 15th inning, before she managed to turn the match around with a run of nine points. With the lead she played much better and finished the match after 24 innings with 30:22 points.

Her compatriot Karina Jetten showed a similar pace and was already 16:2 ahead of Czech Irena Hambalkova after eight innings. In the following minutes, she steadily increased her lead, before the clear 30:8 victory was determined after 25 innings.

The match between the Belgian Jaimie Buelens and the Turkish Aysegul Fendi lasted for the entire forty innings. Although both played maximum series of five and four points, they didn't manage to get any further runs. Buelens, however, scored slightly more than her opponent, so that the Belgian ended up with a clear 27:16 victory.

The last quarterfinal match between Spain's Estela Cardoso and Turkey's Guzin Mujde Karakasli was very exciting. Cardoso was a few steps ahead of her opponent for most of the match, but towards the end it was getting really close. Cardoso had finally scored 25 points with their fortieth and final inning, but Karakasli still had another chance at 23 points. She made the opening ball quite safely and then had a good position on the second point. But ball two collided with ball three which made the carom impossible. So Estela Cardoso entered the semi-finals as fourth player.

Earlier today, in the round of last sixteen, Klompenhouwer had previously won easily 30:5 against Arzu Gok (Turkey), while a close match developed between the German Steffi Daske and local hero Gülsen Degener. At first the Turkish was ahead a few points, but Daske fought back and took the lead on her part. But Degener managed to counterattack and in the following innings both players were almost equal. At 22:21, Daske made the preliminary decision with a run of six points. Degener wasn't able to close the gap anymore.

Irena Hambalkova from Czech Republic had a hard time, as she was only able to defeat Angeliki-Savvina Skolarikou (Greece) at the very end of the game. In the 38th inning she scored five points in a row from beeing down 14:16. Since she followed up with two more points a little later, she finally won the match 21:18.

The match between Karina Jetten (Netherlands) and the Austrian Helga Mitterböck was also exciting until the end. After the 36th inning the score was tied 23:23, but then Jetten run 7 points out of nowhere. Mitterböck only managed to score once in her final attempt and therefore lost with 24:30 points.

Last 16:
Therese Klompenhouwer - Arzu Gok 30:5 in 13
Steffi Daske - Gülsen Degener 30:24 in 31
Daisy Werdekker - Aysegul Fendi 16:22 in 40
Jaimie Buelens - Monique Wilkowski 30:11 in 40
Estela Cardoso - Marianne Mortensen 19:13 in 40
Danielle Le Bruyn - Guzin Mujde Karakasli 19:27 in 40
Irena Hambalkova - Angeliki-Savvina Skolarikou 21:18 in 40
Karina Jetten - Helga Mitterböck 30:24 in 37

Quarterfinals:
Therese Klompenhouwer - Steffi Daske 30:22 in 24
Aysegul Fendi - Jaimie Buelens 16:27 in 40
Guzin Mujde Karakasli - Estela Cardoso 24:25 in 40
Irena Hambalkova - Karina Jetten 8:30 in 25
Semifinals:
Therese Klompenhouwer - Jaimie Buelens
Estela Cardoso - Karina Jetten
The whole event will be livestreamed via www.kozoom.com and Germanys Touch Magazine will be responsible for newsletters and pictures.
Follow us on Facebook: https://www.facebook.com/CEB.billard/

Back